The Sorcerer's Apprentice
Na Time Square so v času najinega bivanja v New Yorku snemali film The Sorcerer's Apprentice, v katerem igra glavno vlogo igralec Nicolas Cage v podobi Balthazar Blake-a. Snemaje se odvija predvsem v poznih večernih in nočnih urah. V noči na 4. maj je prišlo do prve nesreče (posnetek spodaj), tri dni kasnjeje se je nesreča ponovno zgodila, v kateri je bilo poškodovanih 9 oseb! Več spodaj!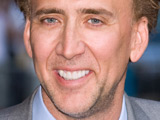 Nine people have reportedly been injured in the second accident to occur near the set of Nicolas Cage's new movie in three days.
According to reports. the incident happened after a sports car crashed into a parked vehicle near where The Sorcerer's Apprentice was being filmed in New York at around 3.30am yesterday.
The driver of the car later told officials that she had swerved to avoid a taxi, but that the two vehicles had jumped the curb and hit a group of people who were sitting under a marquee.
All those involved, which included some of the movie's crew members, are reported to have received treatment for minor injuries at nearby hospitals.
Earlier this week, two onlookers were hurt after a stunt driver lost control of his car while filming a chase scene in Times Square. A lawyer for one of the victims has reportedly confirmed that she will sue for damages.
The Sorcerer's Apprentice, based on the sequence from Fantasia, stars Cage as a sorcerer who takes a young student under his wing. It is scheduled for release on July 16, 2010.
Več o filmu si lahko preberete na http://www.imdb.com/title/tt0963966/.
Nekaj slik iz snemanja dan pred nesrečo – na zadnji sliki sta vidna oba rezervna avtomobila, od tega eden še pokrit!!
[nggallery id=28]
Related